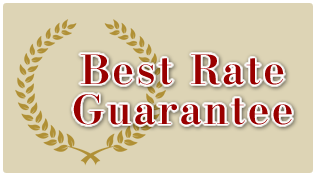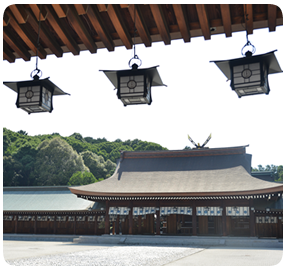 Thank you for choosing Yamato Kashihara City Hotel.

Located in the central district of Kashihara City and near downtown Kashihara, we are well-suited for both business and leisure stays.

A temporal retreat.
A serene space that is airy and filled with natural sunlight.
Nestled in the atmosphere of Manyo Romance – Yamato Asuka, time seems to pass by slower here.
At Kashihara City Hotel, we aim to provide the best hospitality that will leave you with pleasant memories.

Please stay our hotel
to heal the fatigue of business,
to visit the shrines and temples ,like Kashiharajingu and Kumedera and Hasedera,
to explore such as Asuka village and Yoshinoyama or the Asuka Fujiwara region that aims to world heritage.
Please spend a leisurely you as Yoshino and tourism hub of the Asuka region.

We promise a clean and comfortable rest ~Duvet style~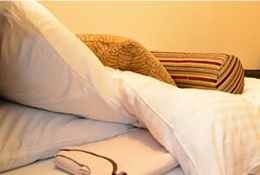 Duvet style has been catching on in Japanese hotels within the last few years.
Unlike previous bedcovers where the sheets get entangled, duvets (feather-stuffed beddings fitted with removable covers) provide a clean and more comfortable sleep experience.
Our simple yet comfortable guestrooms will provide a quiet and relaxing space that will allow you to erase away the day's weariness.
Choose from the recommended plan

●Check-in & Check-out
[Weekdays] Check-in: 15:00 / Check-out: 10:00 [Weekends & Public Holidays] Check-in: 14:00 / Check-out: 11:00
※Early check-in starts from 12:00 am onwards (¥500+tax an hour per person). Please inform the hotel beforehand
※Guests, who arrive before check-in starts, can leave their luggage with the hotel.

●Extension Rates
Until 12:00 / ¥500+tax an hour per person After 12:00 / Rate of one night's stay in full

●Acceptable Credit Cards
VISA / JCB / American Express / Diner's Club / UC / DC / NICOS / AEON / Bank Card / UFJ Card / Master Card / Saison / Debit Card / UnionPay
※Depending on the stay plan's terms and conditions, payment by credit card may not be applicable

●Cancellation Policy
The following cancellation fees are applicable:After 8:00 am of reservation date / 80% of room rateNo show / 100% of room rate


●Internet connection in the guestrooms is free of charge!!
Free wired LAN internet connection and LAN cable is provided in all guestrooms.
(Laptops and LAN cards not provided)
There are also computer available in the lobby for guests to use (free of charge).
※Free Wi-Fi provided by FREESPOT is also available in the hotel
※For more information regarding FREESPOT, please visit http://www.freespot.com/

- Regarding the use of Internet service –
Please refrain from constant connectivity to P2P services or the handling of extremely large files as this may overload the entire network. Please also do not connect using devices that have been affected by viruses. The hotel is not able to provide technical support with regards to connectivity. Additionally, the hotel is not able to guarantee the security of the Internet connection.

●Breakfast
Japanese and Western breakfast sets are available at CAFFE&LOUNGE OASI on the hotel's 2nd floor.
Why not start your day right by enjoying breakfast at this casual chic restaurant.
※For group reservations, the use of banquet room can be arranged
[Breakfast hours]07:00 till 10:00 (until 11:00 on weekends & public holidays)
[Price]¥800+tax (for staying guests, please approach the front desk for a discount)

●Business and Guest Services
Fax services (receiving fax is free of charge) /
Rates: Within Japan - ¥50+tax per A4 sheet Overseas - ¥150+tax per A4 sheet

Copier service - ¥20+tax per A4 sheet

Receiving email on guest's behalf (free of charge) / Please enquire with us for the hotel's email address.

Rental service
For our guests' convenience, the following items are available for rent at no extra charges:
◆Humidifier ◆Table lamp ◆Iron & ironing board ◆Handphone charger (may not be compatible with all devices)
As there are only limited sets, please contact the front desk as soon as possible.

Arrangement of massage services (please enquire with us for more details)

Parcel services

Sales of various items

Dry Cleaning Service(This service is not available on Sunday, public holidays and other specific dates. For details, please enquire with us.)

●Guide of Hotel Facilities

Coin Laundry For the convenience of our guests, 2 combined washer and dryer units are available.※Detergent is provided free of charge(Washer & dryer: 120minutes ¥500, 90 minutes ¥400 |Washer only: 40minutes ¥300 |Dryer only: 30minutes ¥100)

Vending Machine Corner Soft drinks, alcohol, cup noodles etc. are available from the vending machines located on the 3rdFloor

Trouser Press Trouser press is available in the elevator hall on each floor. Feel free to use them and please return them to the original location after use.

Room Theatre Pre-paid cards are available from vending machines in the elevator hall on each floor (for the 3rd floor, it is available at the vending machine corner). For ¥1000 a day, you can view 2 paid channels until check-out time.

●Meeting & Banquet Room

Unebi Room
Suitable for meeting, group dining, training, awards ceremony, exhibition, party and banquet. As the hotel is easily accessible, we highly recommend it as a venue for meetings or trainings. After the event, a dinner party can also be arranged.

Capacity:
[Meeting/Group dining]30persons / [Seminar]40 persons / [Standing party]50 persons

Rental rates:
Up to 2 hours: ¥6,000+tax Subsequent additional hour at ¥2,000+tax per hour
※Based on the contents of the event, there may be additional charges. Please enquire for more details.

CAFFE&LOUNGE OASI (2nd floor)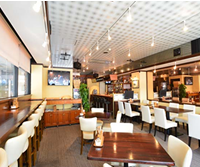 A casual and peaceful place where you can unwind and enjoy a range of dishes varying from Italian to full course meals made with seasonal ingredients. In addition, weekday set lunches, pastas and desserts are also available. This place can be used as a café or lounge for any occasion, at any time.

Operating hours: 07:30 till 00:00 (till 11:00 on Sunday)
Ramen Iseya (2nd floor)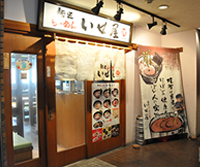 Iseya is famous noodle shop by Miso-ramen!The signature broth, broiled from pork bones, chicken bones, vegetables, kelp and sardines amongst other ingredients, is simmered for more than 10 hours over direct fire, to give it its intense flavour. The specialty chashu smoked with beer's yeast is a must-try! Special value lunch sets which include gyoza and chashu mayonnaise as well as set meals which go well with beer are also available.

Operating hours:11:00 till 14:30(L.O. 14:00) / 17:30 till 23:30(L.O. 23:00)Closed on Sunday.
Tousenbo Kiraku (1st floor)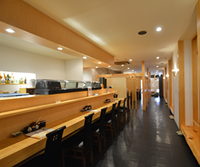 Tousenbo mainly uses tofu and miso in their original Japanese dishes and is very particular about the ingredients used. You are able to taste the authentic rich soybean flavour as the tofu is made from 100% locally produced soybeans and specialty salt. Please do try these together with the seasonal dishes.

Operating hours: 11:00 till 14:30 / 17:00 till 22:00
Curry shop Bullgdog PaPa (1st floor)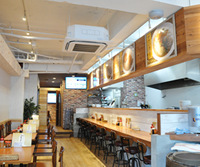 It was condensed into one dish feelings to curry "delicious curry"Spiciness of curry spread to vegetables and fruit sweetness of your mouth is wrap the tongueNostalgic, but a full-fledged one dish that surely addictive taste.

Operating hours: 11:00 till 22:00


[Access via Train]
Just 4 minutes' walk away from Kintetsu Yamato Yagi station or JR Unebi station.
Just 3 minutes' walk away from Kintetsu Yagi nishiguchi station.

Coming from:(to Yamato Yagi station)
Nagoya Station (via Kintetsu Nagoya・Osaka Ltd Express, approx. 110minutes)
Kintetsu Kyoto Station (via Kintetsu Kyoto・Kashihara Ltd Express, approx. 50minutes)
JR Osaka Station (via JR Kanjo Line, transfer to Kintetsu Osaka Ltd Express at Tsuruhashi Station, approx. 40minutes)
Kintetsu Namba Station (via Kintetsu Osaka Ltd Express, approx. 35minutes)

(to JR Unebi Station)
JR Osaka Station (via JR Yamatoji Rapid, transfer to Wakayama Line at Oji Station, approx. 65minutes)

[Access via Car]
3 minutes' drive from Minami-Hanna Expressway・Yamato Takada Bypass, Shijo Interchange
[Parking]
The hotel's parking area is located along Highway 24, east of Minami Yagi Intersection.It is 3 minutes' walk away from the hotel.
*Availability is on a first come first serve basis. If the lots are fully taken up, we will direct you to the nearest coin parking (charges to be borne by guest).

Kashiharajingu
Established on 2 April 1890, this shrine was built to formally enshrine the first emperor of Japan, Emperor Jimmu. The shrine is built at the site where he is believed to have ascended the throne.Kintetsu take the train from "Yagi-Nishiguchi Station" (about 2 minutes), get off at "Kashiharajingu Mae", is a 10-minute walk away.

Yoshinoyama
Take the train from "Yagi-Nishiguchi Station" (about 5 minutes) and then transfer to Kintetsu Yoshino Line at "Kashiharajingu Mae".Take 54 minutes to "Yoshino Station". Ropeway station "Senbonguchi" is 3-minute walk from "Yoshino Station".If arriving by car, you will arrive in about 45 minutes via a 169 Route medium highway / national road near "Yoshino Station".

Asuka-Fujiwara archaeological site of Japan's Ancient Capitals and Related Properties.
Other Fujiwarakyo trace, in various places the ruins, ancient tombs are scattered. Together, these will have been promoting the registration as a World Heritage Site.
HP http://asuka-fujiwara.jp/

Asuka-mura
Place where you can feel the history and culture of the Asuka period, it is Asuka village.Including Ishibutai(Stone Tumulus), museums and archaeological sites, historic sites, ancient tomb, is full of attractions, such as.
CONTACT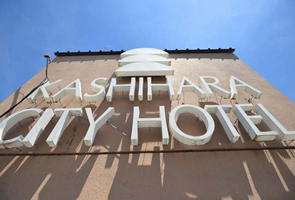 If you have something question,please contact us by E-mail.
We will usually answer 2 or 3days from receive E-mail.


YAMATO KASHIHARA CITY HOTEL
1-8-16,Yagi-cho,Kashihara-shi,Nara 〒634-0078
Tel 0744-23-5151 / Fax 0744-25-7511